[rev_slider alias="home"]
Apart from providing the diet plans, we believe in holisitic approach towards the lifestyle management. Inspite of believing in strict nutritional philosophies, unrealistic diets, We believe in providing the foods which will not only help you to cure the disease from root but can be sustained in your lifestyle for life long which can help you to build your stamina, to boost your energy & keeping you healthy & positive.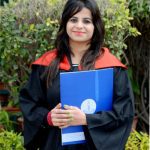 Qualified & experienced (M.sc. Foods & Nutrition.)
Experienced as Nutrition lecturer
Experienced as Intern PGIMER, Chandigarh
Transforming lifestyles across the globe in 25+ countries
North India's most trusted Dietitian & Lifestyle coach.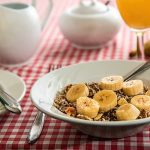 Personalised, non-restrictive diet & lifestyle plans
No exotic or expensive items, only homely food
No pills or supplements; only real food from your kitchen
Focus on nutrition, not just calorie counts
Improve your health. No 'dieting'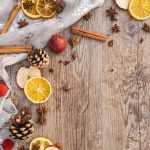 No marketing gimmicks or sales pitch
No false promises or guarantees. Focus on sustainability
Programs where you don't feel like being on a 'diet'
Maintenance guidelines included in every program
Family discounts for 2 or more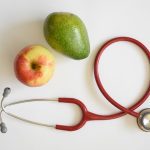 Get treated as a family. Form a 2-way relationship
Support on call, chat & email
Weekly scheduled feedback sessions – diet & lifestyle coaching
Learn to eat right food in right amount.
If they can, so can you.
Creating diet plans that lead to lifestyle changing experiences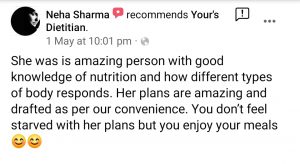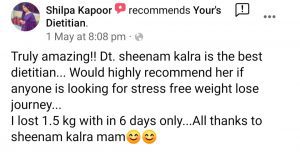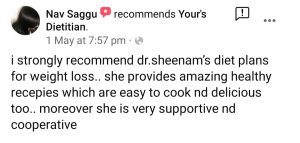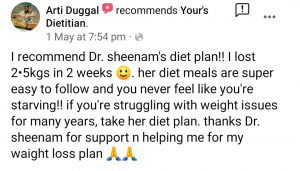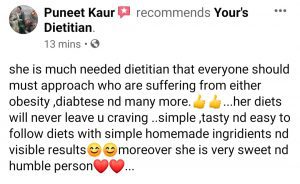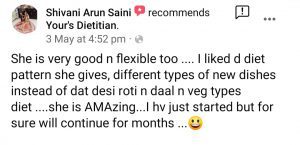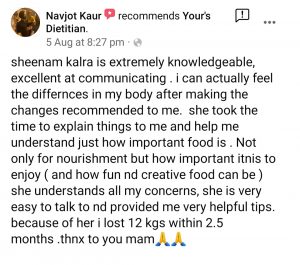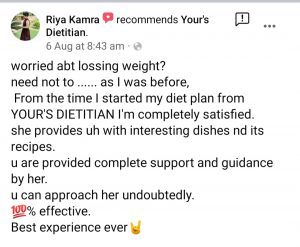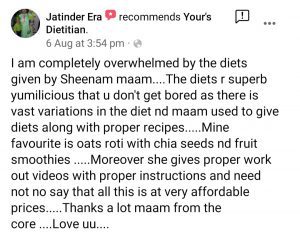 I am completely overwhelmed by the diets given by Sheenam maam....The diets r superb yumilicious that u don't get bored as there is vast variations in the diet nd maam used to give diets along with proper recipes.....Mine favourite is oats roti with chia seeds nd fruit smoothies .....Moreover she gives proper work out videos with proper instructions and need not no say that all this is at very affordable prices.....Thanks a lot maam from the core ....Love uu....

she is much needed dietitian that everyone should must approach who are suffering from either obesity ,diabtese nd many more.👍👍...her diets will never leave u craving ..simple ,tasty nd easy to follow diets with simple homemade ingridients nd visible results😊😊moreover she is very sweet nd humble person❤❤

Hi sheenam mam ! U r such an amazing dietician for those who think impossible to weight loss.I hv lost 3.5 kg in three weeks only.I was very lazy for my self b'coz of my lazy life style i was facing chronic constipation ...so i couldn't think about weight loss ...but ma'am ur diet plans and guidelines hv changed my life style thats y my so many problems regarding health are solved now.. Here i want to say that 'thanks' word is very small to express my feelings. Thanks a ton ma'am ...u r eveready to guide me ....to motivate me to council me .ur diet plans are realy helpful to achieve our goal. May God gv u all the success in ur life ... Keep smiling as usual ... Best dietician ever. Lots of love 💞

sheenam kalra is extremely knowledgeable, excellent at communicating . i can actually feel the differnces in my body after making the changes recommended to me. she took the time to explain things to me and help me understand just how important food is . Not only for nourishment but how important itnis to enjoy ( and how fun nd creative food can be ) she understands all my concerns, she is very easy to talk to nd provided me very helpful tips. because of her i lost 12 kgs within 2.5 months .thnx to you mam🙏🙏

Dt. Sheenam is the best dietician. I have been taking diet plan since 1month. feel changes in myself. Her diet plans r so healthy and tasty. Very easy to follow up. she's very nice and always available to answer all queries and alwys give me alternates as i alwys need alternate. If u r looking to loose some extra thn Sheenam is the right person to contact.

I have been taking Sheenam ma'am's diet plan since 1 month and I am noticing change in myself..her diet plans are so simple, healthy and tasty. She is a nice person..she is always available for any of my queries and she simply solve's it. I would recommend Sheenam ma'am.😊

Dt.sheenam is the best dietician. Her diet meals are healthy and tasty. She is always answering all of my queries very well. I lost 3.8 kg in three weeks. Thanks Sheenam mam for helping me for my weight loss journey
Health Reads
Latest blog posts on health, diet, weight loss and general wellness